| The town fighting the climate crisis to stay afloat, one hurricane at at time
Added: 21.07.2019 5:00 | 3 views | 0 comments



Fair Bluff has already been hit by two hurricanes – but if another arrives this year, it could become one of the US's first climate crisis ghost towns
The water slithered up while the people went to sleep. No text alerts. No sirens. Just the Lumber River, the color of black tea, carrying out its slow, silent ambush, creeping up to the steps of the Baptist church and the rototillers at the hardware store and the 99-cent greeting cards in the pharmacy.
In her final hours in the home where she grew up, 55-year-old Bonnie Savage pulled a load of warm clothes from the dryer and folded them. She was hardly concerned about Hurricane Matthew. It had come ashore in South Carolina as a category 1 and was a tropical storm by the time it tumbled inland and into her hometown of Fair Bluff in eastern North Carolina.
In the past century, North Carolina has endured 15 major storms. The three worst, in terms of cost of damage, have occurred in the past 20 years
To the regular resident, money is money, and they don't see why it wasn't spent on their homes. Many don't have time to wait.
Drug companies shipped thousands of pain pill orders it should have halted, documents say
Added: 21.07.2019 4:11 | 8 views | 0 comments


Drug companies flooded vulnerable communities in American with billions of painkillers for years in the name of profit without proper oversight, highlighting the pharmaceutical industry's role in the opioid epidemic according to federal authorities. 
Judge upholds a Trump admin alternative to Obamacare
Added: 21.07.2019 2:16 | 16 views | 0 comments


The Trump administration has the authority to make it easier to buy a less expensive alternative to Obamacare coverage, a federal judge ruled Friday.
Migrants hurt in North Macedonia after driver jumps from moving truck
Added: 20.07.2019 23:04 | 9 views | 0 comments


Police in North Macedonia said on Saturday that 34 Afghan migrants have been injured in a highway accident after the driver of a truck carrying them north toward Serbia jumped from the moving vehicle attempting to escape a police patrol.
Knox backs MacIntyre in Stanley row over wayward shot
Added: 20.07.2019 22:18 | 3 views | 0 comments


Russell Knox says fellow Scotsman Bob MacIntyre was right to question Kyle Stanley for not shouting "fore" after a wayward shot at the Open.
Give Your Next Book Club Meeting a Taste of France
Added: 20.07.2019 20:42 | 3 views | 0 comments


When D'Arcy arrives at the Chateau Lieu des Reves, she doesn't shy away from indulging in the homemade pastries and food prepared for guests.  Whether it's that first dinner with Josh or the romantic picnic they share—there's always something delicious on the menu in France. To create your own decadent French picnic, Natasha Lester has some suggestions: Tarte Tatin: an upside-down pastry with fruit (often apple) that is caramelized in butter and sugar before the tart is baked. French Baguette: a classic French loaf of bread characterized by its long, thin shape and crispy crust. Paté: a paste, pie or loaf consisting of ground liver with a variety of other ground meat (pork, poultry, fish) combined with herbs, spices and either wine or brandy.  A platter of different types of paté served with slices of baguette will allow guests to sample different tastes. Cheese: like the paté, creating a platter with a few different flavors and textures of cheese makes for a nice tasting experience served with the baguette.  Some popular French cheeses include Brie, Gruyere, Roquefort, and Chevre. Chocolate Tarts: a type of custard tart with a mixture of dark chocolate, cream and eggs are poured into a sweet pastry shell and baked until firm. Macarons: sweet pastries made with almond powder or ground almond, they come in a variety of flavors denoted by different colors and types of filling.  Note that macarons are different from the macaroon, which is coconut based. Palmiers: pastry in the shape of a palm leaf or heart.  They are also known as French Hearts or Elephant Ear among other names. Cherry Clafoutis: a type of tart consisting of a sweet custard batter mixed with ripe cherries and baked.  While cherries are the traditional fruit used in this dish, other fruits can be substituted. Champagne or wine is always a good choice to pair with any of these treats and plentiful around France.  But if you're looking for something a little bolder Natasha has shared her favorite recipe for a Manhattan.
2 oz. Whiskey 1 oz. sweet vermouth 2 dashes Angostura Bitters
Serve with a twist of orange
The Paris Orphan Discussion Questions
Added: 20.07.2019 20:42 | 2 views | 0 comments


One of the author's concerns when writing the book was that the extent and magnitude of the bias and discrimination shown towards female war correspondents was so great that readers might not believe it could really have happened. Were you shocked by the any of the sexist behaviour, rules or beliefs described in the incidents in the book? Which incidents surprised you the most? How do you think it might affect a woman to have to struggle against such ingrained bias in order to do her job?

Had you heard of Lee Miller before you read the book? Have you been drawn to find out any more about Miller since reading it? What do you think of the author's decision to create a character inspired by Miller rather than write a fictionalised account of Lee Miller's life? Which approach do you think you might prefer as a reader?

Victorine makes a difficult decision towards the end of the novel when she withholds information from both Jess and Dan. What did you think of her decision? What might you have done in her place? Is it possible to make the wrong decision for the right reasons? How important is it to consider a person's motivations when assessing whether their decision was right or wrong?

Both Jess and Dan make different decisions when it comes to Amelia's ultimatum: Dan decides to marry Jess in spite of his battalion; Jess decides to leave Dan so that he has to marry Amelia. Who was the more heroic out of Jess and Dan over the course of the war, and in making that final decision? Which one of them made the "right" decision?

For much of the novel, Jess collects information about soldiers sexually assaulting civilian women. She doesn't report on this until after the war. Do you think it was cowardly of her to wait so long? What do you think might have happened had she tried to publish the article while the war was still continuing? Was she guilty of letting other women down, or did she have no choice?

Back in London, Jess has the thought: "War makes us monsters or angels, but so too does love." How difficult do you think it would be to fall in love during wartime, knowing that death was a very real possibility for one or both partners? Do you think this would change the kind of love a person might feel, make it tense perhaps because risk is everywhere, or less intense because the fear of death creates a fear of true intimacy? How can love make someone a monster and where does this happen in the book?

The difficulties Jess and Dan and Amelia face during the war are very different to the difficulties D'Arcy and Josh have faced in their lives. Do you think people in contemporary times are guilty of creating problems where none exist? To what extent does living through a war change how a person views life? Are contemporary concerns less important than those people faced during the 1940s or are both sets of issues equally challenging and worthy of discussion?

There are many women in the book who are based on real people including Martha Gellhorn, Lee Carson, Iris Carpenter, and Catherine Coyne. Had you heard of any of these women before reading the book? Which ones? Is it true that the stories of so many extraordinary women have been lost to history, and forgotten by those of us who come after? If so, why do you think that is? What other books have you read, or movies have you watched, that feature extraordinary women from history and what did you enjoy about them?
HBG Big News This Week: April 15-19, 2019
Added: 20.07.2019 20:42 | 1 views | 0 comments



Following is a recap of major news at Hachette Book Group for the week of April 15-19, 2019: HBG Community Service Day: we had our second annual Community Service Day on Wednesday, and close to 600 HBG employees volunteered in a wide variety of activities – preparing food in community kitchens, delivering hot meals to homebound seniors, reading with children, repainting rooms in community centers, gardening in green spaces, caring for animals in rescue shelters, assisting with literacy and mental health awareness projects, creating handmade cards for hospitalized children, and much more. Bestseller news:  James Patterson's The Fall of Crazy House (JIMMY Patterson) debuts at #4 on the New York Times YA Hardcover list. Also, debuting on the NYT lists are William W. Li's Eat to Beat Disease (GCP) at #10 on the Advice, How-To, & Misc., and Miracle at St. Andrews by James Patterson & Peter de Jonge (LB) at #13 on the Print HC Fiction list. HBG's distribution clients have a #1 bestseller with Jeff Kinney's new addition to the Diary of the Wimpy Kid franchise, Diary of an Awesome Friendly Kid (Abrams) at the top of the Middle Grade Hardcover list. And David Sax's The Revenge of the Analog (PublicAffairs) makes a surprise appearance at #1 on the Washington Post bestseller list this week. LA Times Book Prize: Beth Macy's Dopesick: Dealers, Doctors, and the Drug Company that Addicted America (LB) has won the 2018  for Science & Technology. Ondaatje Prize shortlist: Adam Weymouth's Kings of the Yukon (LB) has been named to the Royal Society of Literature's 2019  shortlist. The £10,000 prize is awarded annually to a book of the highest literary merit – fiction, non-fiction, or poetry – which best evokes the spirit of a place. The winner will be announced May 13. Major launch: Ali Benjamin's highly anticipated The Next Great Paulie Fink (LBYR) went on sale this week with an interview on NPR's Here & Now, coverage to come in The Denver Post, New York Times, People, and the Wall Street Journal, and a two-week national tour.
Tags:
Children
,
UK
,
Washington
,
Royal Society
,
Animals
,
Washington Post
,
Wall Street Journal
,
Employees
,
New York
,
Kitchen
,
Mac
,
SPA
,
Technology
Visiting Machu Picchu: 4 Tips for Responsible Travel
Added: 20.07.2019 20:37 | 6 views | 0 comments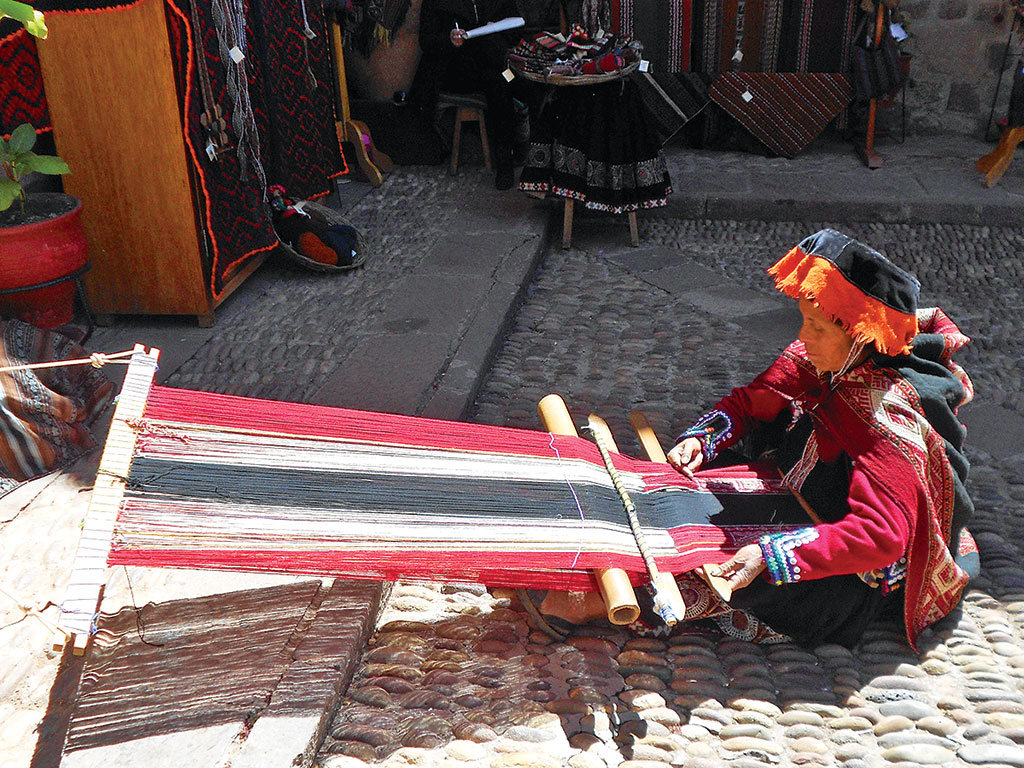 Peru's tourism has seen a massive boom in recent years. More than 3,000 tourists per day trample the grounds of the ancient Inca city, well above the limit set by UNESCO. Such popularity comes at a price: Because Machu Picchu is built on a humanmade mound of earth, the ground is comparatively soft and the site is actually sinking, albeit very slowly. Due to the influx of tourists, Peru is implementing new measures to visit Machu Picchu in order to ensure sustainability, including establishing two entry windows (6am-noon and noon-5:30pm), predetermined paths for tourists to walk on while in the sanctuary, and time limits at specific spots in the ruins. If you're headed to Machu Picchu, there are plenty of ways for you to minimize your environmental impact while making the most of your trip of a lifetime! Here's where to start. Pass on Plastic Every time travelers buy a plastic water bottle, they are contributing to a waste problem that is reaching epic proportions all over Peru. Nearly 200 million plastic bottles are produced every month in Peru alone, and a good chunk of these are consumed by tourists—who understandably need a few liters of purified water for each day in Peru. Here's what you can do to help:
Carry a reusable hard plastic water bottle and fill it with treated or boiled water.
Buy sodas and water in refillable glass bottles.
Request that your hotel provide water tanks (bidones) or at the very least boiled water for refilling bottles.
Reuse plastic bags over and over and do not accept new ones.
Spread the word!
Pick a Responsible Trekking Agency Among the more than 150 licensed trekking agencies operating in Cusco, the standards of service and social and environmental responsibilities vary greatly. It's important to be discerning and to research thoroughly before booking. , , and are a few great choices: Not only is their experience and professionalism unsurpassed, but they consistently recycle their trash, pack out all human waste, treat water carefully, and pay porters fair wages. Shop Local From beautiful crafts and Andean paintings to gorgeous ceramics and weavings, there are tons of souvenir options to bring home from your adventure, and they can be a great way to support the local economy. A great association in Cusco, run by the altruistic Franco Negri, is Casa Ecológica (Portal de Carnes 236, interior 2, cell tel. 984-117-962, 9am-9:30pm daily), which was created to promote sustainable development in rural communities. The shop sells traditional crafts produced with natural fibers, as well as organic cosmetics and food products. You'll find some of the highest-quality textiles for sale in all of Cusco at the (Av. El Sol 603, tel. 084/22-8117, 7:30am-8:30pm daily). Nilda Callañaupa, a weaver and scholar from Chinchero, set up the center with the admirable goal of recovering ancient technologies, showcasing high-quality weavings, and sending revenue straight back to the remote, neglected villages that produce them. Local weavers give daily demonstrations, and there are displays that explain all the plants, minerals, and berries used for natural dyes. Volunteer! Why not give back to the community while you're there? There are hundreds of volunteer opportunities in Peru involving art and culture, community development, disability and addiction services, ecotourism and the environment, education, health care, and services for children and women. Although these organizations don't pay salaries, they often provide food or accommodation in exchange for your time. The nonprofit (Lima tel. 01/447-5190) is dedicated to conserving natural biodiversity, and its volunteers play a firsthand role in helping that mission happen. The two-week to monthlong volunteer programs take participants to the ocean to research dolphin populations or dive into open water to collect marine species. (Only experienced divers can apply for the latter option.) A rainforest trip to Manu involves researching tapirs, macaws, and giant river otters. Lima's is a solid resource that hooks up volunteers with organizations. There are also many Peru-based volunteer organizations: check out programs in Huancayo; the organization in Carhuaz in the Cordillera Blanca; and in Ollantaytambo. Related Travel Guide [hbg-title isbn="9781640493162" summary="Mystical, timeless, and full of adventure: embark on the trip of a lifetime to the jewel of Peru with Moon Travel Guides." /] Pin it for Later
Older articles

»