US charges three researchers with lying about links to China
Added: 29.01.2020 0:21 | 4 views | 0 comments


A Harvard professor and two Boston-based Chinese researchers are accused of aiding China's government.
Give Your Next Book Club Meeting a Taste of France
Added: 28.01.2020 23:09 | 3 views | 0 comments


When D'Arcy arrives at the Chateau Lieu des Reves, she doesn't shy away from indulging in the homemade pastries and food prepared for guests.  Whether it's that first dinner with Josh or the romantic picnic they share—there's always something delicious on the menu in France. To create your own decadent French picnic, Natasha Lester has some suggestions: Tarte Tatin: an upside-down pastry with fruit (often apple) that is caramelized in butter and sugar before the tart is baked. French Baguette: a classic French loaf of bread characterized by its long, thin shape and crispy crust. Paté: a paste, pie or loaf consisting of ground liver with a variety of other ground meat (pork, poultry, fish) combined with herbs, spices and either wine or brandy.  A platter of different types of paté served with slices of baguette will allow guests to sample different tastes. Cheese: like the paté, creating a platter with a few different flavors and textures of cheese makes for a nice tasting experience served with the baguette.  Some popular French cheeses include Brie, Gruyere, Roquefort, and Chevre. Chocolate Tarts: a type of custard tart with a mixture of dark chocolate, cream and eggs are poured into a sweet pastry shell and baked until firm. Macarons: sweet pastries made with almond powder or ground almond, they come in a variety of flavors denoted by different colors and types of filling.  Note that macarons are different from the macaroon, which is coconut based. Palmiers: pastry in the shape of a palm leaf or heart.  They are also known as French Hearts or Elephant Ear among other names. Cherry Clafoutis: a type of tart consisting of a sweet custard batter mixed with ripe cherries and baked.  While cherries are the traditional fruit used in this dish, other fruits can be substituted. Champagne or wine is always a good choice to pair with any of these treats and plentiful around France.  But if you're looking for something a little bolder Natasha has shared her favorite recipe for a Manhattan.
2 oz. Whiskey 1 oz. sweet vermouth 2 dashes Angostura Bitters
Serve with a twist of orange
US charges three researchers with lying about links to China
Added: 28.01.2020 22:54 | 5 views | 0 comments


A Harvard professor and two Boston-based Chinese researchers are accused of aiding China's government.
Visiting Machu Picchu: 4 Tips for Responsible Travel
Added: 28.01.2020 22:44 | 5 views | 0 comments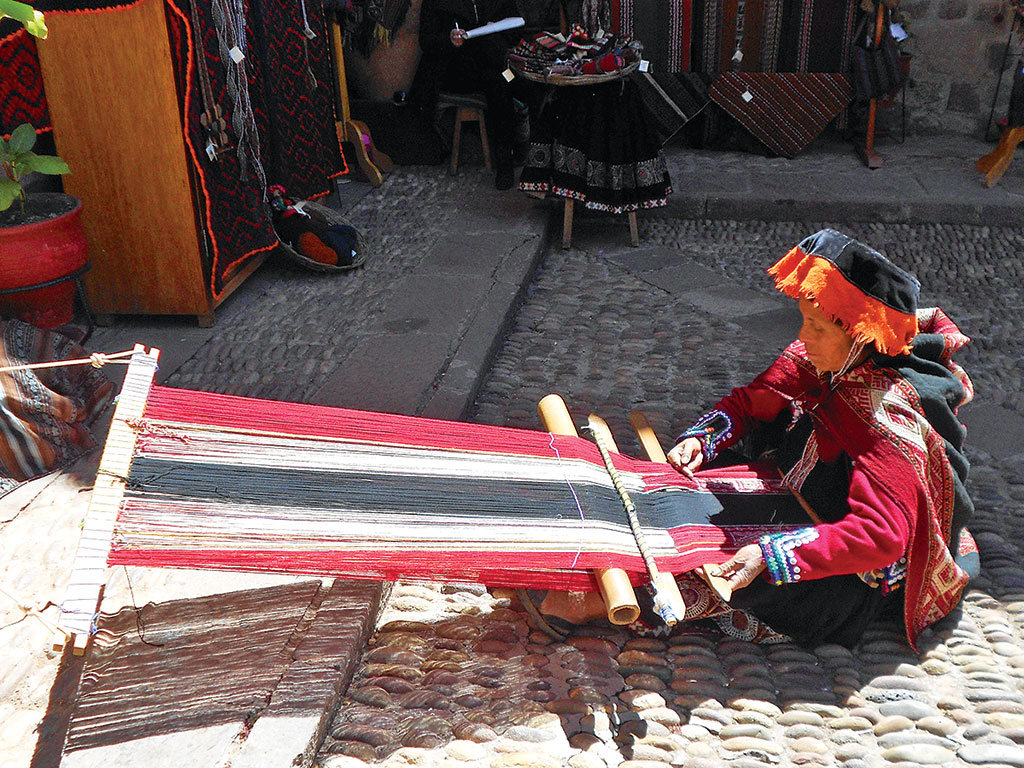 Peru's tourism has seen a massive boom in recent years. More than 3,000 tourists per day trample the grounds of the ancient Inca city, well above the limit set by UNESCO. Such popularity comes at a price: Because Machu Picchu is built on a humanmade mound of earth, the ground is comparatively soft and the site is actually sinking, albeit very slowly. Due to the influx of tourists, Peru is implementing new measures to visit Machu Picchu in order to ensure sustainability, including establishing two entry windows (6am-noon and noon-5:30pm), predetermined paths for tourists to walk on while in the sanctuary, and time limits at specific spots in the ruins. If you're headed to Machu Picchu, there are plenty of ways for you to minimize your environmental impact while making the most of your trip of a lifetime! Here's where to start. Pass on Plastic Every time travelers buy a plastic water bottle, they are contributing to a waste problem that is reaching epic proportions all over Peru. Nearly 200 million plastic bottles are produced every month in Peru alone, and a good chunk of these are consumed by tourists—who understandably need a few liters of purified water for each day in Peru. Here's what you can do to help:
Carry a reusable hard plastic water bottle and fill it with treated or boiled water.
Buy sodas and water in refillable glass bottles.
Request that your hotel provide water tanks (bidones) or at the very least boiled water for refilling bottles.
Reuse plastic bags over and over and do not accept new ones.
Spread the word!
Pick a Responsible Trekking Agency Among the more than 150 licensed trekking agencies operating in Cusco, the standards of service and social and environmental responsibilities vary greatly. It's important to be discerning and to research thoroughly before booking. , , and are a few great choices: Not only is their experience and professionalism unsurpassed, but they consistently recycle their trash, pack out all human waste, treat water carefully, and pay porters fair wages. Shop Local From beautiful crafts and Andean paintings to gorgeous ceramics and weavings, there are tons of souvenir options to bring home from your adventure, and they can be a great way to support the local economy. A great association in Cusco, run by the altruistic Franco Negri, is Casa Ecológica (Portal de Carnes 236, interior 2, cell tel. 984-117-962, 9am-9:30pm daily), which was created to promote sustainable development in rural communities. The shop sells traditional crafts produced with natural fibers, as well as organic cosmetics and food products. You'll find some of the highest-quality textiles for sale in all of Cusco at the (Av. El Sol 603, tel. 084/22-8117, 7:30am-8:30pm daily). Nilda Callañaupa, a weaver and scholar from Chinchero, set up the center with the admirable goal of recovering ancient technologies, showcasing high-quality weavings, and sending revenue straight back to the remote, neglected villages that produce them. Local weavers give daily demonstrations, and there are displays that explain all the plants, minerals, and berries used for natural dyes. Volunteer! Why not give back to the community while you're there? There are hundreds of volunteer opportunities in Peru involving art and culture, community development, disability and addiction services, ecotourism and the environment, education, health care, and services for children and women. Although these organizations don't pay salaries, they often provide food or accommodation in exchange for your time. The nonprofit (Lima tel. 01/447-5190) is dedicated to conserving natural biodiversity, and its volunteers play a firsthand role in helping that mission happen. The two-week to monthlong volunteer programs take participants to the ocean to research dolphin populations or dive into open water to collect marine species. (Only experienced divers can apply for the latter option.) A rainforest trip to Manu involves researching tapirs, macaws, and giant river otters. Lima's is a solid resource that hooks up volunteers with organizations. There are also many Peru-based volunteer organizations: check out programs in Huancayo; the organization in Carhuaz in the Cordillera Blanca; and in Ollantaytambo. Related Travel Guide [hbg-title isbn="9781640493162" summary="Mystical, timeless, and full of adventure: embark on the trip of a lifetime to the jewel of Peru with Moon Travel Guides." /] Pin it for Later
to Frederich Hipp
Added: 28.01.2020 22:35 | 1 views | 0 comments


Richard P. Feynman to Frederich Hipp, April 5, 1961
Editor's Note: Frederich Hipp, a high school student, was fascinated by physics ("atomic theory and quantum mechanics in particular") and had built a cloud chamber for his science project. He was concerned, however, that he had little aptitude for math. His question to Feynman: "Can a person of normal mathematical ability master enough math to do work on some professional level in this field?" Mr. Frederich Hipp New Milford, Connecticut Dear Sir: To do any important work in physics a very good mathematical ability and aptitude are required. Some work in applications can be done without this, but it will not be very inspired. If you must satisfy your "personal curiosity concerning the mysteries of nature" what will happen if these mysteries turn out to be laws expressed in mathematical terms (as they do turn out to be)? You cannot understand the physical world in any deep or satisfying way without using mathematical reasoning with facility. How do you know you don't have an aptitude for math? Perhaps you disliked your teacher, or it was presented wrong for your type of mind. What do I advise? Forget it all. Don't be afraid. Do what you get the greatest pleasure from. Is it to build a cloud chamber? Then go on doing things like that. Develop your talents wherever they may lead. Damn the torpedoes—full speed ahead! What about the math? Maybe (1) you might find it interesting later when you need it to design a new apparatus, or (2) you may not go on with your present ambition to understand everything, but instead find yourself a leader in some other direction, such as building the most ingenious rocket-ship control devices, or (3) biological problems may ultimately absorb all your interest and talent for doing experiments and learning about nature, etc. If you have any talent, or any occupation that delights you, do it, and do it to the hilt. Don't ask why, or what difficulties you may get into. If you are an average student in everything and no intellectual pursuit gives you real delight, then I don't know how to advise you. You will have to discuss it with someone else. It is a problem that I have not thought about very hard. Sincerely, R. P. Feynman
U.S. charges target alleged Chinese spying at Harvard, Boston institutions
Added: 28.01.2020 22:03 | 21 views | 0 comments


A Harvard University department chair and two Chinese nationals who were researchers at Boston University and a Boston hospital were charged on Tuesday with lying about their alleged links to the Chinese government.
Florida daycare teacher fired after child comes home with 'I'm out of diapers' written on torso
Added: 28.01.2020 20:39 | 13 views | 0 comments


A Florida mother has pulled both of her children from the daycare center after the incident.
Radiation prior to surgery reduces risk of secondary tumors in early-stage breast cancer
Added: 28.01.2020 20:22 | 4 views | 0 comments


Moffitt Cancer Center researchers launched a first of its kind study comparing the long-term benefits of radiation therapy in women with breast cancer either before surgery (neoadjuvant) or after...
Assessing geographic origins of ancient humans
Added: 28.01.2020 19:27 | 23 views | 0 comments


Working with lead isotopes taken from tooth enamel of prehistoric animals, researchers have developed a new method for assessing the geographic origins of ancient humans.
Older articles

»